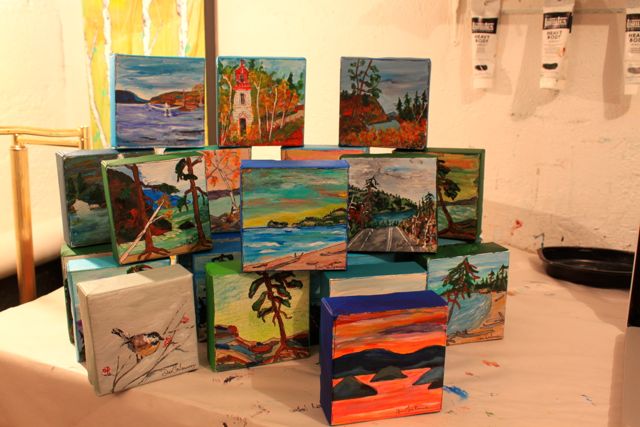 Just uploading and updating new small paintings for 2020/21
I've had a fantastic response to these smaller works and want to
thank everyone who has purchased them. Your support is greatly appreciated.
I've left the sold pieces on this page and can do a similar painting if so desired.
This is an ongoing series and I will be posting more of these as they are completed.
---
 I really enjoy painting these smaller work. Keeping it simple, small but full of detail. Once again the theme is celebrating this wonderful place in the world where I live...namely the North Shore of Lake Superior. Living up here is living in paradise...the fishing (to which I am severely addicted) is incredible and the landscape pulses with life, energy, and magnificent colors. 

As with all my paintings (although I really like them) they are for sale. The size is small but the work is ...I could use a big long description but basically, I really feel privileged to be living here, and hopefully, these little paintings carry this message. 

I've been driving along this coastal highway since the early sixties and never get tired of the rugged beauty the Superior Coastline has to offer.

The weather patterns can change within minutes and make painting an exciting adventure. 

The paintings evoke the beauty and power of Lake Superior...a perfect gift for anyone who loves the Lake Superior coastline.
 
---


These little paintings measure 4"x4" with 1 1/2''painted gallery-wrapped sides. They can stand by themselves and look great on dressers or side tables ect... I usually write a description of the painting on the back. These paintings sell for $50.00 ea. and ship anywhere in Canada and the USA. For other countries please send an inquiry using my email form. Please note that most of these paintings have been sold. I can paint something similar just send me a request.
Thanks for your support.