T
homson re-visited
It's been a few years now since I published the Tom Thomson tribute cd 
 Wildwood/Through Tom's Eyes. There's been a lot of history that's flowed under my bridge since then.
I started painting shortly after that album came out in 2006. Several more music albums were recorded including the Group of Seven tribute Riding The Rails in Paradise CD.

I find myself drawn more and more to these artists who painted rocks, trees, rivers, creeks and mountains with such a display of vibrant and at times somber colours reflecting the ever changing moods of this rugged Canadian landscape.

John MacDonald, the poet of the group recognized that the landscape was alive and pulsing with an energy, beauty and spirit that touches the very core of our existence transforming us into poets, musicians and artists. MacDonald nailed it when he said..."the soul of the thing, the inner feeling rather that the outward form"...this is what we as artists, are humbly attempting to accomplish.
I'm home now for the winter and painting and writing most days. Winter for me is a time of reflection and renewed energy.
---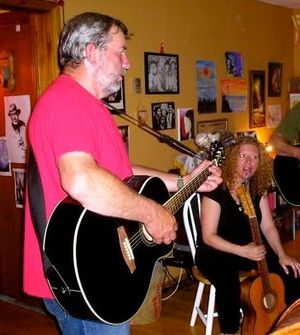 Just off the lake playing a house party with 
my daughter Dawn.
---
Tom Thomson's Tribute Album "Wildwood/Through Tom's Eyes"

I wrote all the tunes for this album while I was in Sault Ste. Marie doing my six- week Christmas gig a few years back. I rented an empty house from a friend and only had a bed and the pine furniture I built to sell in our art and music store.
I remember buying a Thomson art calendar which I took apart and then arranged all the images on the wall in the living room. Each evening after coming home from the shop I would light some of Jude's hand- made candles, look at Tom's paintings and start writing the lyrics for the "Wildwood/Through Tom's Eyes" album. I got the final song "The Last Stand" completed just before moving out after Christmas that year. My daughter Dawn sang the background vocals on this tune... it's worth a listen!
I started recording this album in early March at Easter Island Studio in Sudbury with the members of my son Noel's rock band. Later that month, Herschel Payne drove down from Ottawa and recorded the violin tracks.
Herschel used to play lead violin in the Quebec Symphony Orchestra before picking up the paint brushes and creating his wonderful masterpieces.
Noel was instrumental in the making of this album, he arranged and directed the music for his band and provided his natural editing talents not to mention a number of delicious meals.
I've been fortunate over the years to have my children record with me including my granddaughter Alex. We still perform together whenever the opportunity arises.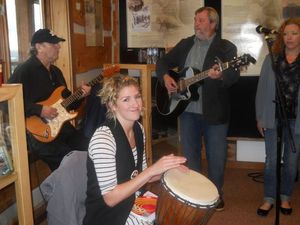 Alex, Rusty, Dawn et mois at the
tourist information centre Wawa.
---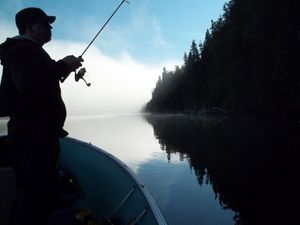 Noel, chilling out on Crooked Lake